WHY SELF DEFENSE CLASSES ARE LIKE INSURANCE POLICIES
Self defense skills are like insurance policies: You hope you never have to use them, but you never want to be without them.
The self defense classes and curriculum at the St. Paul Brazilian Jiu Jitsu Academy focus on preparing the average person to defend themselves against a bigger, stronger attacker. Jiu Jitsu self defense classes focus on the use of position, leverage, and momentum to combat and overcome the physical advantages of an attacker who would otherwise be able to out muscle or overpower you.
In a street fight or self defense scenario, common things that have been introduced into the modern day sport Jiu Jitsu world may not apply in the street. There are no time limits. There are no points. And There is only 1 rule: Survive. While we do teach Jiu Jitsu techniques that can be effective in sport Jiu Jitsu competition, my personal mission is to make sure that every single one of my students is prepared for the worst case scenario. In our self defense classes, you will learn how to block, counter, and re-direct an aggressive, would-be attacker's assaults, bring them to the ground, maintain dominant position, and either survive and win the fight by either tiring him out or, if he is particularly aggressive and refuses to relent, finish the fight with one of many different submissions including various choke holds and joint locks.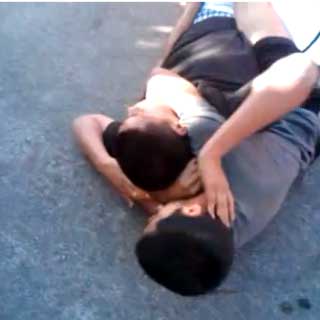 CALL TODAY! 651-600-6089
ENTER YOUR INFORMATION, AND YOU'LL RECEIVE:
A FREE VIDEO: "3 GREAT BJJ EXERCISES AND 3 AWESOME WAYS TO CHOKE OUT AN ATTACKER!"

A FREE INTRODUCTORY PRIVATE LESSON!

A FREE 30 DAY TRIAL!