BJJ FOR MMA AND SELF DEFENSE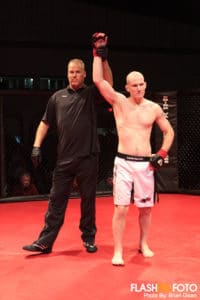 Learn to combine Brazilian Jiu Jitsu with basic elements of Boxing, Muay Thai, and Wrestling. In our MMA classes, Coach Brandon demonstrates how to seamlessly blend strikes with takedowns, takedowns with positional control, positional control with strikes, and strikes with submissions. Train in a safe, controlled environment under the supervision of Coach Brandon while wearing the proper safety gear to ensure that you can learn the art of BJJ for self defense and MMA in a safe environment. Coach Brandon's experience as a professional MMA Fighter with a compiled record of 14-3 and most of his wins coming by way of submission make him one of the best Coaches in the state to learn Jiu Jitsu for MMA and self defense.
In his prime, Coach Brandon was ranked as the #2 fighter in the Minnesota's featherweight MMA division. In addition to that, he was ranked as the #43 featherweight MMA fighter in the entire nation. He has been a training partner to UFC Fighters Sean Sherk, Jacob Volkmann, Paul Bradley, Pablo Garza, and more. With Coach Brandon's impressive competition history and passion for BJJ, you would be hard pressed to find a better instructor under whom to learn BJJ for MMA and self defense.
CALL US!  651-600-6089
ENTER YOUR INFORMATION, AND YOU'LL RECEIVE:
A FREE VIDEO: "3 GREAT BJJ EXERCISES AND 3 AWESOME WAYS TO CHOKE OUT AN ATTACKER!"

A FREE INTRODUCTORY PRIVATE LESSON!

A FREE 30 DAY TRIAL!