What is Brazilian Jiu Jitsu?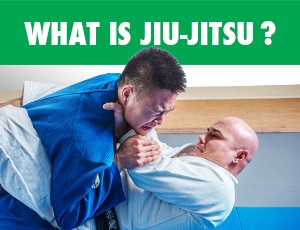 Brazilian Jiu Jitsu (BJJ) is a Martial Art that uses leverage and position, over strength and size to defend yourself. BJJ is the perfect martial art for ANYONE wanting to learn how to defend against any attacker. The primary focus of BJJ is to defend yourself when you have been grabbed and/or taken to the ground. Using the body's natural leverage points, you will learn to gain total control over and submit your attacker using a joint lock or a choke. With the skills you learn in BJJ you can incapacitate your would be attacker and get away safely.
I have not worked out in a while. Do I need to get into shape before I start BJJ?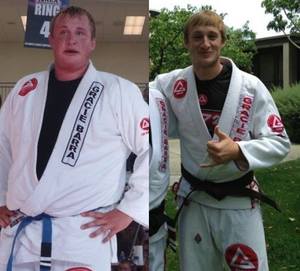 Absolutely not. Our BJJ Foundations program is designed so that anyone can participate and learn the art. The class will be formatted in such a way that will allow for those with both limited and advanced athletic abilities to push and challenge themselves but still be able to keep up, complete the workout, and achieve their goals. In most cases, a person starts training BJJ when they are in poor shape, but after a while BJJ transforms them into a more fit and healthy individual capable of workouts they wouldn't otherwise be capable of. Once I learn more about you and get to know you personally, I will be able to give individual instruction to you, regardless of your skill or fitness level, to ensure you get a great workout that is within your fitness level and abilities.
How long does it take to get a jiu jitsu black belt?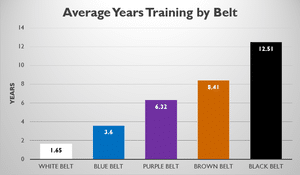 There are incredibly rare instances where people have earned their Brazilian Jiu Jitsu Black Belts in roughly 3-4 years. However, please note that these are incredibly rare circumstances. On average, even with a dedicated regimen of attending class 3 nights per week or more, it will take approximately 10-12 years to obtain a BJJ Black Belt. This is one of the many reasons that the BJJ Black Belt is by far one of the most respected Black Belts in martial arts.
WHEN ARE THE CLASSES?
Here at the St. Paul Brazilian Jiu Jitsu Academy, we understand that people have varied schedules. To help people fit BJJ into their schedule, we offer various classes per week including morning, evening, and weekend classes. With a class schedule like ours, we are confident that regardless of your availability , we'll have weekly class times that are convenient and will work for you and your schedule.
WHERE ARE YOU LOCATED?
The St. Paul Brazilian Jiu Jitsu Academy is conveniently located just south of Downtown St. Paul off of Highway 52 and Plato Blvd. The central location and its proximity to the Highway make it an easy commute for any and all residents of St. Paul and the surrounding Suburbs. The address is 322 Chester St, St. Paul, MN 55107.
CALL US!  651-600-6089
ENTER YOUR INFORMATION, AND YOU'LL RECEIVE:
A FREE VIDEO: "3 GREAT BJJ EXERCISES AND 3 AWESOME WAYS TO CHOKE OUT AN ATTACKER!"

A FREE INTRODUCTORY PRIVATE LESSON!

A FREE 30 DAY TRIAL!