Jiu Jitsu in MN just got a little bit better! Yesterday, Saturday January 7th, the St. Paul Brazilian Jiu Jitsu Academy hosted it's Grand Opening special Event! For the special occasion, Head instructor, Brandon Bergeron, brought in his most prominent Jiu Jitsu instructors over his last 10 years of training, Greg Nelson and Nate Homme.
We had an amazing turnout with 47 Students on the Mat! Greg, Nate, and Brandon made their way around the mats to help students understand and properly execute the techniques that were being shown that day.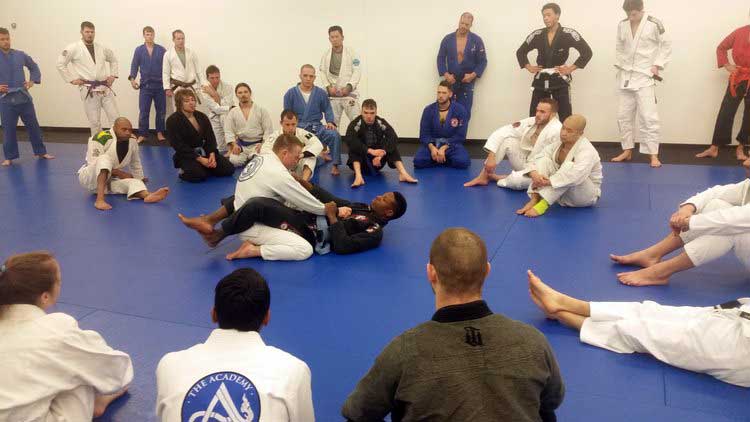 Greg showed a guard pass along with using the opponents lapel to help pin them flat. Greg followed up these techniques by later showing how you can use that same lapel that was controlling your opponent to choke the opponent out using both a cross choke and a sneaky Brabo Choke!
In Nate Homme's hour, Nate taught a very similar series, but with his own Homme twist as is everything he teaches. Nate showed us how to pass the knee shield guard with a unique twist using his elbow to block out the attacker's chance at re-guarding. He then also showed a variation of the cross choke to Brabo choke using the gi, but in a different way.
To end the Seminar, Greg Nelson said a few words about Brandon's accomplishments, and then asked Brandon to untie his belt. After 10 years of hard work, Greg promoted Brandon Bergeron to the rank of Brazilian Jiu Jitsu Black Belt! As Greg and Nate were applying the ceremonial cross chokes as is common at belt promotions, Brandon, in his "never give up" attitude refused to tap to his instructors one last time, and was choked unconscious.
What a Huge day in the Minnesota Jiu Jitsu Scene! St. Paul gets it's first school that is 100% dedicated to Jiu Jitsu that's centrally located and easily accessible from St. Paul, Minneapolis, and the surrounding suburbs, and Minnesota produces 1 more BJJ Black Belt!